I have just come from visiting the
Elisabeth Bell's World Challenge Blog
to see what the new challenge is and to my excitement I read that I have won last months challenge!! My winning card is HERE!!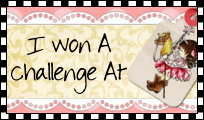 I never thought in my wildest dreams I'd win a challenge over there because there are so many other talented crafters that had entered so that makes this win even sweeter!! So thanks to Elisabeth and the DT for choosing my card!!
In continuing on with my goal this week of posting every night, I have another card to share!! Now I'll be honest and let you know that I did make this the other day but I spent last night colouring my images for my next creation so that took all night!!
I made this card for my son's friend's birthday so I kept it fairly simple cos as much as I love making cards I know kids really only care about one thing and that is the PRESENT!!
This image is Har Repotter The Chosen One from
Bugaboo Digi Stamps.
I coloured him in with Tria's then just added a few coloured cardstocks, embossed the squares, added some sstars and again used my new tags from The Emerald Faerie Garden that I just love!! Not sure how I lived without them!! LOL!!
My boys loved this card so hopefully the birthday boy did too!!
Until Next Time... Enjoy!! xx